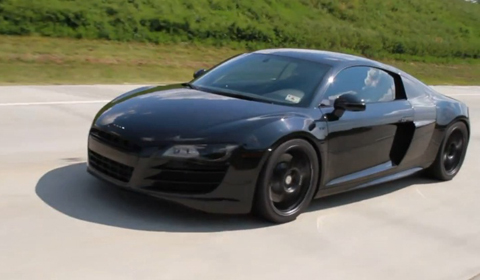 Underground Racing is known for their extreme tuning of Lamborghini and Ferrari supercars. The tuner from Charlotte, North Carolina has unveiled their take on the Audi R8.
The Audi R8 V10 is powered by a 5.2 liter engine, based on the unit in the Lamborghini Gallardo. Underground Racing has used their experience with Lamborghini engines to add more power into the German sports car. Thanks to Underground Racing's twin turbo system, the Audi R8 now provides at least 1,000+ wheel horsepower.
Underground Racing offers modifications in four different stages. The first stage provides 700 horsepower on pump gas, or 1000 using race fuel. The seconds stage provides 850hp on regular petrol, or a whopping 1,200 on race fuel. Stage three is even more powerful with 1,000hp, or 1,200 on race fuel. The most extreme is the last modification consisting of a race version turbo system with a highly modified engine. This one provides 1,000hp with regular petrol, and an utterly insane 1,500 on race fuel.
For more information, check out the homepage of Underground Racing.