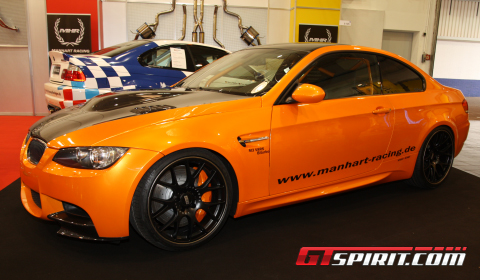 Manhart Racing was hard to miss at Essen 2010. They brought this bright orange BMW E93 M3 to the show. The sports car is outfitted with the 4.4 liter twin-turbo V8 engine used in the BMW X6 M and X5 M.
The engine was tuned up to a maximum output of 734PS, creating a power-to-weight ratio of 2.0kg/PS. A sprint from 0-100km/h takes 3.3 seconds and the top speed is 340km/h.
The German tuner outfitted the Bavarian sports car with a new exhaust system, M5 E60 differential, the six-speed automatic gearbox from the X6 M and X5 M, an upgraded BMW brake system, BBS Challenge wheel set and a new exterior trim.
A new headliner, carbon fiber interior parts, BMW sport steering wheel with paddle shifters and a roll cage were installed within the interior.
The sales price for this upgraded BMW M3 E92 is € 202,181.