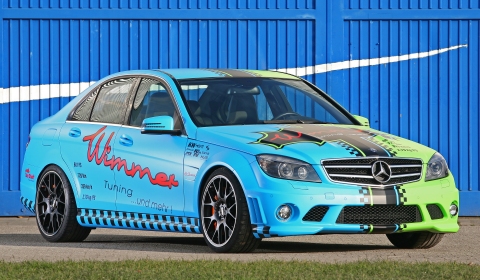 German tuner Wimmer RS has once again shown a package for the Mercedes-Benz C 63 AMG. This time they call it the BlueGreen Eliminator, but nothing really changed with respect to the previous program released at last year's Essen Motor Show. Only the wrap changed! The complete foiling of the body is done in blue and green/matte by Cam Shaft.
The technical improvements include a sport air filter by K&N, a manifold, down pipe and special sport catalysts from the HJS. A new hand-made stainless steel exhaust system can also be controlled in three stages via an electronic throttle control developed internally. The adjustment of the engine electronics 601hp and 720Nm of torque. The power-to-weight ratio is 2.79kg/hp. The improved top speed is 329km/h.
Wimmer RS also mounted a clubsport coilover suspension by the KW Company and BBS – CHR wheels FA 8.5×19 and 9.5×19 RA and a MOV'IT-ceramic brake system of 380x40mm with six-piston brake calipers at the front and 362x28mm with four-piston brake calipers at the rear. The car rides on Dunlop Sport Maxx GT 235/35-19 and 265/30-19 tires.
The tuned C 63 AMG will make its official debut at the Essen Motor Show 2011 tomorrow.