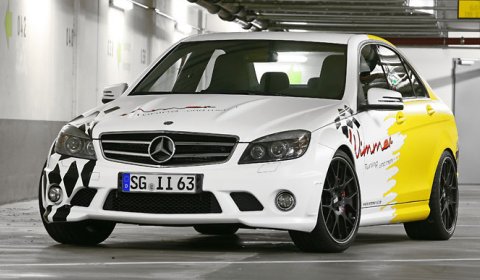 Wimmer Rennsporttechnik from Solingen has released a new package for the Mercedes-Benz C63 AMG. The Germans achieved a 21hp and 30Nm enhancement over their previous package, which the tuner revealed in November.
The modification of the V8 engine includes a sports camshaft, a reworked cylinder head, manifold, down pipe, high flow catalytic converters, air intake, installation of a stainless steel exhaust system and a sport air filter. The result of all these measures is a powerful 601hp and 720Nm of torque. The total result provides a power to weight ratio of 2.79kg/hp. Additionally, the unlocked Vmax value makes 329km/h possible.
The C63 AMG got a new wheel kit consisting of BBS CH-R alloy wheels in dimensions of 8.5 or 9.5×19 inches. The car is fitted with Dunlop tires in the dimensions of 235/35-19 at the front axle and 265/35-19 – at the rear axle.