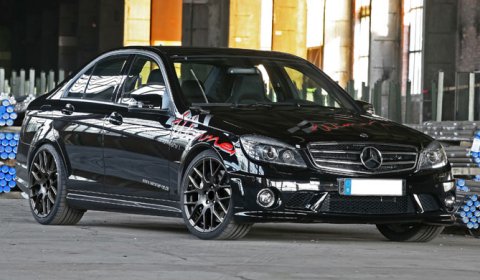 German tuner from Solingen Wimmer RS has created a performance package for the Mercedes-Benz C 63 AMG.
The level 3 performance kit for the C63 AMG is now available. It increases the engine output to as much as 580hp and 690Nm. Small changes of an air flow through the air filter from K&N, air induction optimization and engine software are also included.
A powerful V8 sound is the strength of the Wimmer RS-Sport exhaust system. The vehicle has an exhaust manifold with down pipe, a sports catalyst and optimized cat-back all-stainless steel exhaust system.
The V-Max with the Wimmer power boost brings the power up to about 305km/h (electronic limitation). The demonstration vehicle is also equipped with Dunlop Sport Maxx GT tires and the KW-Club Sport Suspension.
The cost of the full performance level 3 is € 9,900 including installation.