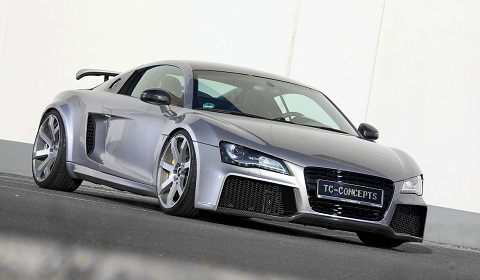 Today we received a new set of information from TC Concepts regarding their brand new Toxique aerodynamics kit for the Audi R8. The kit is a plug & play installation, bolting onto the existing structure of the Audi R8 to create a new look without messy welded mounts. This makes installation a speedy process with a reduced likelihood of problems.
The full aerodynamic kit includes body parts in the companies RS design. These include a new front bumper and grille, side skirts, rear side panels to widen and increase air flow to the engine and a rear bumper with integrated diffuser. As we reported before, a set of stainless steel exhaust tips are also included. These measure 165mm and bolt over the top of the existing exhaust system.
That's the aerodynamic kit that the Berlin-based company are offering. However, as additional options, a full carbon rear wing can be fitted (as seen in the pictures), a stainless steel exhaust system with butterfly valves can be fitted and TC Customs 'Toxique Parle' rims are also on offer. These come in 8.5×20 inches at the front with 235/30 20 tires and 10.5×21 inches at the back with 295/25 21 tires.
To give it a unique ride, you can finish off the modifications with a coilover suspension kit featuring adjustable heights and hardness. Inside there's a carbon interior with full leather trims available in a variety of colours and configurations. Custom exterior colors are also not a problem for TC Customs.
So there you have it. Full details from the company themselves. Let us know what you think after viewing the additional photos we've added.