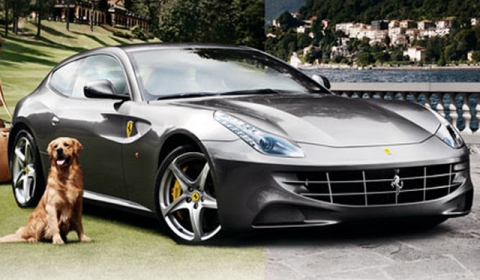 You might remember the limited edition Ferrari FF Neiman Marcus exclusive edition which was unveiled a month ago. Despite the current economic woes all ten cars were sold within fifty minutes.
The 4WD Ferrari FF is powered by a 6.2 liter V12 engine which provides 660hp and 683Nm of torque. Thanks to this, the FF is able to accelerate from 0 to 100km/h in 3.7 seconds, from 0 to 200km/h in 11 seconds and the top speed is 335km/h.
The special edition of the 2012 Ferrari FF is listed in the annual "Christmas Book" of the luxury retailer Neiman Marcus for a $ 395,000 price tag.
For this extra $95k compared to the regular model, the ten buyers each got an individually-numbered FF in Grigio Caldo and a trip to the Ferrari Winter Driving Experience in Aspen, Colorado. It's unclear whether or not the dog pictured next to the Ferrari FF above is included.