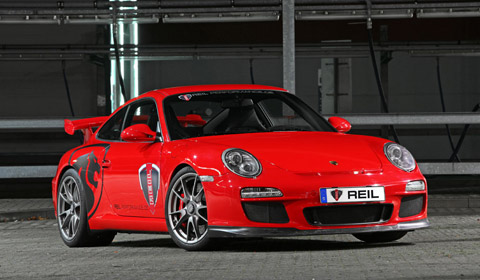 German tuner REIL Performance has presented their take on the Porsche 911 GT3. The Porsche received an upgrade which boost the performance and appearance.
The Porsche 911 GT3 is a high performance version of the Porsche 997 sports car. The second generation of this car was unveiled in 2009 and is powered by 3.8 liter engine producing 435hp.
REIL Performance, a subsidiary of MR Car Design, has added more power thanks to chip-tuning and a specially designed Akrapovic exhaust system, which includes an almost indispensable damper control system. This upgrade adds 20hp, brining it up to a total of 455hp.
The German tuner has also lowered the suspension and installed a HLS lift kit which increases the ground clearance of the vehicle to clear obstacles more easily. Finally, the company from Erftstadt also offers an optional graphics package. REIL Performance did not release pricing details.
For more information contact MR Car Design / REIL Performance.