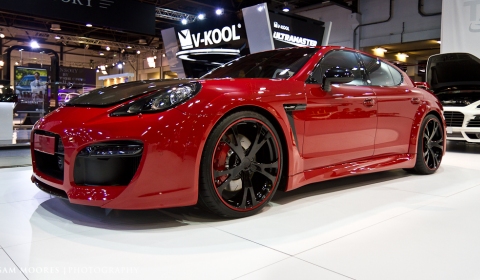 The Dubai Motor Show 2011 showed a wide varierty of sports cars and supercars. We covered quite a few of those cars over the past few days, but some were not shown yet. The gallery below combines a small series of sports cars from around the world.
The gallery includes the Ferrari 458 Spider, Aston Martin V12 Zagato, Lexus LFA, Lamborghini LP570-4 Performante, Jaguar C-X75 Concept and a red TechArt Panamera GrandGT.
One vehicle is the gallery is quite special. The BMW 750Li UAE Edition made its official debut at the Dubai Motor Show this year. The luxurious 7-Series is build to commemorate the 40th Anniversary of the unification of the United Arab Emirates. Just fourty of the cars will be build and sold through the Emirates two BMW importers; AGMC and Abu Dhabi Motors.
The BMW 750Li forms the base for each car. Each one will then be distinguished from the standard production models by an exclusive Marakesh Brown exterior color. A Merino Platinum leather interior will be installed with the UAE emblem on the headrest, iDrive button and other areas of the interior trim. At the back of the car, the rear chrome trim will feature the words '40 years UAE limited edition'.
[Photos by Sam Moores for GTspirit.com]