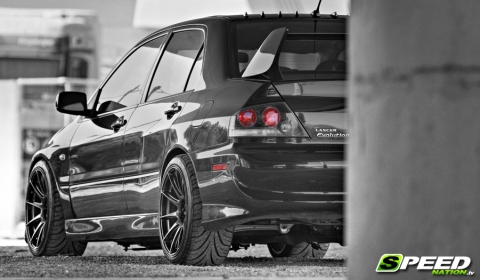 Have you ever seen a street car revving to 11,000rpm accompanied by a distinctive whistle of a blow off valve every single time it shifts gear? No? Check this Mitsubishi Lancer Evo IX MR driven by the guys over at Speednation.tv.
The Mitsubishi Lancer Evolution IX, build by Extreme Tuners from Greece, produces over 870hp at 11,000rpm. The black Evolution IX MR US-spec is fitted with wide 18 inch wheels with semi-slick tires and humongous ten-pot D2 calipers on 380mm brake discs at the front and six-pot calipers on 333mm discs on the rear. The GReddy exhaust has also been added to the setup.
The only real reason this car shifts at 11.000+ rpms is not cause it's out of power, it's just a safety precaution to protect it from itself! The VBOX recorded that from 100km/h to 200km/h it only took 4,59 seconds.
Any time you feel like experiencing it's incredible acceleration, just take your foot off the gas, downshift and give it full throttle. You'll be exceeding speed limits in about a second. And it can cure your melancholy better than an electric shock. And then do it again… and again… and again…
The only thing better than an engine revving at 11.000rpms at close to 1 bar boost, has to be 11.000rpms at 2+ bar boost! And will be there…
We said enough just watch the video or check out the complete story by Speednation.tv right here.