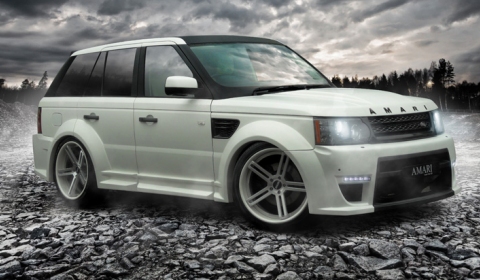 The Range Rover Windsor Edition is the forefront of the Amari Design brand soon to be followed by the Lamborghini Gallardo Invidia and the new version of the 2010 Windsor Edition released in February.
The design team as well as technical developers have been working hard developing a complete exterior including front bumper with front apron and LED lights, rear bumper with rear difusser, wide arch and door moulding set, rear roof spoiler, exhaust tips, front grill, sidevents and bonnet. The Amari design AD1 three-piece deep concave forged wheelset is one of three wheel designs in the Amari design range, made from forged aluminium.
Inside the SUV Amari design added a full napa leather interior. The interior panels also get a piano black or carbon fiber look all down to what the customer wants.
The Amari design technicians have also managed to tune the engine for those of you who would like an extra few horses beneath the Windsor Bonnet with different programs for diesel and petrol models.
The full conversion is also available in a non wide version keeping the same look front and rear but without the wider stance for the more conservative individual.
The Amari Design Windsor edition is available now from Amari supercars headquarters and there apointed international dealers worldwide.