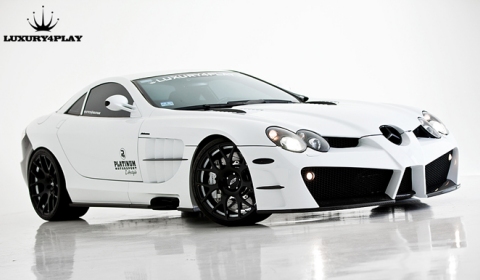 Luxury4Play has released an unique present for us all, the world's fastest SLR. Nicknamed the L4P SLR777 it is the only Mercedes-Benz McLaren SLR with Mansory Renovatio bodykit installed outside of the Mansory Factory.
The L4P SLR777 project is a team collaboration project between Platinum Motorsport, RENNtech, MACarbon and Exotics Boutique. Exterior body paint and install was done by Platinum Motorsport in a new special Liquid White color. MACarbon was contracted for all the custom carbon fiber interior pieces, and Platinum Motorsport finished the entire interior in black suede and fitted the car with custom 20 inch Agetro M140 Monoblock wheels.
The World's Fastest SLR is bold statement without any figures, so our friends over at L4P provided some videos to prove its capabilities. In the video, you will see the L4P SLR777 running the quarter mile in 10.29 sec at 134mph, making it the world's fastest SLR.