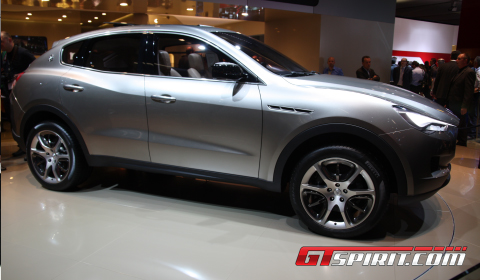 Back at the IAA in Frankfurt Maserati presented their SUV concept that will hit the roads in 2013. The concept got the name 'Kubang', but this will not be official name when the SUV hits streets around the world.
Rumours go that the final name will be 'Cinqueporte'. Confirmation comes from the fact that Maserati has recently registered the name at the European patent and trademark office.
For most of us this will not be a big surprise as Maserati's four4-door saloon is called the Quattroporte and the SUV will come with five doors. Cinqueporte is easily translated as 'five doors'.
According to the Italian manufacturer the Kubang maintains the integrity of Maserati's DNA by offering driving pleasure and a luxury atmosphere similar to today's high-end sports and luxury cars. The Italians also claim that the style, engine, suspensions, brakes, handling and performance will all unmistakably be Maserati.
The engine of the Maserati Kubang will be produced by Ferrari and coupled to an AT eight-speed automatic transmission. More details regarding the new Maserati SUV will be unveiled in the near future, so stay tuned for more!