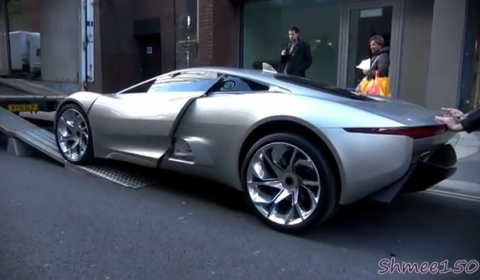 Dear friend and YouTube member Shmee150 filmed the Jaguar C-X75 Concept as it maneouvers around under its electric motor on the streets of London. The car was filmed on the road as it is packed up to leave the Society of Motor Manufacturers and Traders (SMMT) where it has been on display and go to the Modern Westminster exhibition space.
The 'hybrid' concept commemorate the brand's 75th anniversary and is powered by four electric motors, one for each wheel, total power 778bhp (580kW). Designed as a range-extended electric two-seater supercar, it explores the outer limits of both performance and sustainability.
The powertrain also includes micro gas-turbines that generate electricity for the batteries and are capable of running on compressed natural gas, diesel, biofuel and LPG. They generate 188bhp (140kW). In total the concept produces 800bhp and 1600Nm (1180lb-ft) of torque. The power provides a 0 to 100km/h (62mph) sprint in 3.4 seconds, 300km/h (186mph) in 15.7 seconds and up to a top speed of 330km/h (205mph). The range of the hybrid is up to 900km (560 miles).
On the inside the driver and passenger are seated ahead of a sealed airbox that houses the micro gas-turbines. The seats are fixed to the bulkhead as in a single-seater racing car, and air to feed the turbines passes smoothly around them via channels in the structure of the body. With the seats anchored in place, the steering wheel, controls, main binnacle and pedal box all adjust towards the driver.
In May Jaguar confirmed the production of the remarkable C-X75 concept car as an exclusive hybrid supercar. To bring Project C-X75 to showroom reality within the timescales of a conventional model programme, another powertrain had to be developed. The road-going supercar will use a small-capacity internal combustion engine with one powerful electric motor at each axle.