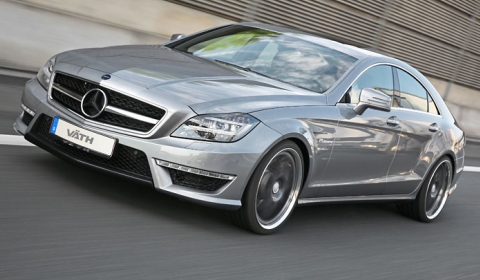 The second generation of CLS-Class has received an upgrade by Bavaria-based tuner VÄTH. The Germans installed an improved performance, and exterior and interior trim on the Mercedes-Benz CLS 63 AMG V8 Biturbo.
A V63RS tuning kit features individually fine-tuned engine electronics, which increases the the capacity to 5.461cm³ and the maximum output is 660hp and 960Nm. The acceleration from 0 to 100km/h is done in 3.9 seconds and from 0 to 200km/h in 12.0 seconds. Top speed is 325km/h. The kit price, including optimized charge air cooler system and sports exhaust system consisting of stainless steel catalysts, middle and tail muffler systems costs € 12,800.
The suspension in CLS 63 AMG by VÄTH features the front axle lowering springs of 20 to 40mm plus rear axle electronic adjustment, it will cost you € 980. In order to improve overall performance it also makes sense to optimize the brakes which will cost € 590 with flexible steel brake lines, Technical Supervision certificate and Castrol SRF racing brake fluid included. Another € 6,337.88 you would have to pay due to the forged three-piece 9×20 inch wheels with 265/30ZR20 tires for the front axle or 10.5×20 inch with 305/25ZR20 tires for the rear axle.
On the outside they fitted an airflow front spoiler (€ 1,490), a trunk-lip spoiler (€ 1,480) and a rear diffuser with fins and underfloor extension (€ 1,490).
Väth provided a car with a sports steering wheel in leather/leather design, also available with carbon or finewood applications upon request. For another € 1,450 the tachometer scale can be extended up to 360km/h. And last but not least, for € 3,300 you can choose improved interior design in classy black carbon.