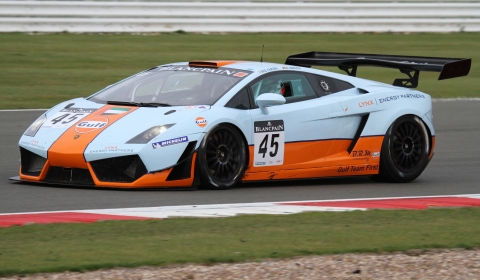 The final round of the Blancpain Endurance Series was completed on Sunday 9th October 2011 at Silverstone circuit, United Kingdom. The championship was open for the taking at the start of the three hour race. Pole position was taken by No 41 Alpina B6 driven by Niki Meyr-Melnhof. The No 41 started to pull ahead of the pack closely followed by No 50 AF Corse Ferrari and third place car No 40 BMW.
The race consisted of two pit stops which helped some drivers but hindered others. The No 41 Alpina entered the pits for the first time as the No 40 BMW exited the pits and leapt into the lead due to the ground he had already made prior to his pit stop. Unfortunately for No 41's pit stop took far longer than expected and resulted in the Alpina joining the track in fourth place. He had a lot of time to make up and fight his way back through the field and reduce the gap of ten seconds that the No 40 had gained ahead of No 29 Vita4one Ferrari. No matter how hard the Ferrari pushed the BMW responded by opening up the gap even further.
The second pit stop lead to No 41 Alpina pitting early and re-joining in tenth place. The No 40 BMW also pitted and rejoined as leader of the race one again. Near the end of the race the BMW held a thirty second advantage over the No 29 Ferrari and the No 32 Audi was hunting down second place which was now a fifteen second advantage.
With under fifteen minutes left of the race the rain started to appear over Silverstone creating further problems for the drivers who were pushing to their limit. On the last lap the No 32 Audi R8 managed to overtake the No 29 Ferrari to gain the second step on the podium.
The No 40 Marc VDS BMW managed to clinch first place at the end of the 85 lap, of the three hour race and gain their second victory of the season. The championship was won by fifth place No 33 Audi R8, who had a cautious but extremely good ride in order to succeed and win the title.