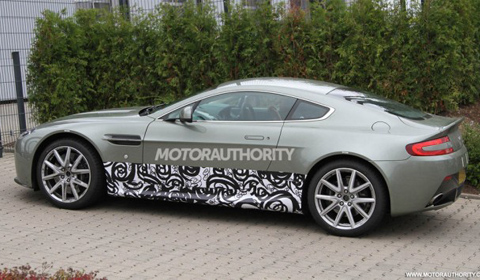 Aston Martin is working on the next generation of the Vantage and now the first spyshots of this car have appeared.
The test mule was spotted near the Aston Martin Nürburgring Test Centre in Germany. The new Vantage appears to have new and wider skirts. It is also rumored the new Aston will be built on a lighter version of the VH aluminum platform which underpins the current line-up of the British marque (with the exclusive One-77 as exception).
The current 4.7liter V8 and 6.0 liter V12 engines will remain. But these engine will be upgraded to produce more power and fewer emissions. A six-cylinder engine is being considered as well.
The other details of the cars are still subject of speculation. It is possible that the British company is lacking the necessary funds to developed a completely new model. So this could mean that the new 2014 Aston Martin Vantage will be a slight evolution of the current model.
When the next generation Vantage will hit the markets in unknown, but it won't be before 2014.
For more pictures check out Motor Authority.