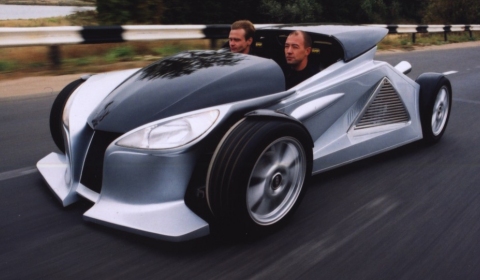 Our Latvian friends from Dartz are planning the release of a rather unique vehicle; the MOJO. Not like their armored trucks, Leo Yankelovich's new project focusses on going green, full electric and sex appeal.
The MOJO is a new solarpowered project with the official name: Dartz MOJO 4 ST.Tropez – 4 Wheeled Sexappeal. There will also be a gasoline version, called the JO-MOJO.
The two pictures released today show a two-seater roadster with a futuristic body shell, no windshield and a rather intriguing roof concept, which hopefully stays open when you step on the brakes. The engine is fully exposed and placed on the rear-axle with the gearbox placed behind the engine in a black-colored box. The setup somehow resembles a Lotus platform with the engine mounted at the back.
For those of you who have heard the word MOJO somewhere before, it was one of the quotes used by Austin Powers in the movies International Man of Mystery and The Spy Who Shagged Me. MOJO is a slang word for self-confidence, self-esteem or sex appeal, which hardly refers to this vehicle.
Feel free to share your opinion on this creation!