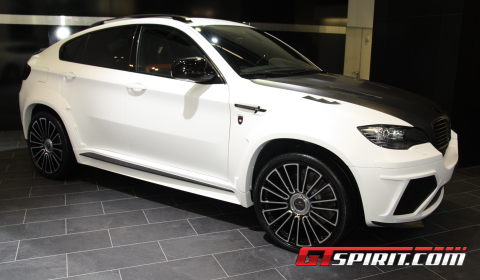 At the 64th edition of the Frankfurt Motor Show, Mansory Switzerland has presented their upgrade for the BMW X6 M. This package consist out of an exclusive carbon bodywork, performance and interior program.
The BMW X6 M received a new body kit with a new front spoiler, larger air intakes and an extra light bonnet made entirely of carbon which optimizes air flow to the front engine. Thanks to the widened wings which flow into the side skirts the vehicles width increased around 70mm at the front and 80mm at the rear.
At the back a newly designed skirt comes into play using an integrated diffuser which has room for four stainless steel exhaust pipes from the sports exhaust system. A roof spoiler for additional contact pressure and a rear spoiler lip give the Mansory X6 more stability at high speeds.
Nearly all the aerodynamic components are fabricated by the engineers from high-tensile polyurethane (PU-RIM) and from prepreg autoclave carbon. In the process, the preformed carbon-fiber parts are given a permanent shape in autoclaves by the effects of vacuum and heat which guarantees a perfect surface finish with low weight.
Also the engine was subjected to a performance upgrade and delivers 670 horsepower (493kW) and a torque of 850 Nm at 5900 rpm. This increase in performance is made possible by using an entirely new exhaust system complete with exhaust manifold and optimized engine electronics. The Mansory is able to accelerate from zero to 100km/h in 4.2 seconds while the top speed is 300km/h.
Light alloy rims measuring 23-inch fill the wheel arches and according to Mansory, these improve the handling and highlight the vehicle's appearance. The M10 silver-finished, cast, monoblock wheels are equipped with 315/25R23 tyres. With progressively wound sports suspension and an adapted height adjustment, the vehicle's center of gravity is lowered by around 40mm. Larger brake discs and a multi-piston brake system to improve the stopping power.
Just as for all other Mansory vehicles the same applies to the BMW X6: the customer can compose his own quite personal vehicle interior from the practically endless combinations of leather, Alcantara, wood, carbon or aluminium trim and just about any technical gadget imaginable.