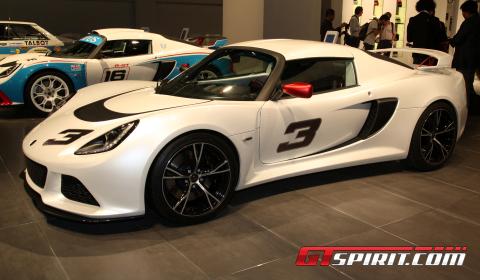 Raw performance, agility, unparalleled ride and handling and mind blowing drive experience, these attributes according to Lotus. The British car maker released their new Lotus Exige S at the 2011 IAA Frankfurt Motor Show. The vehicle combines 1,080kg and a 350hp 3.5 liter V6 Supercharged Evora S engine.
The Exige S has a completely new exterior and interior look and feel. The styling overhaul sees a completely new look for the Exige including a new front splitter and rear spoiler giving it a strong and aerodynamic profile.
There are two new interior package options available: Premium and Premium Sport. The Premium Pack provides added comfort and style where as the Premium Sport option focuses on the driver involvement.
High performance bespoke tyre package with Pirelli P-Zero Corsa tyres are standard. A Lotus DPM (Dynamic Performance Management) switch allows the driver to switch between three driving modes: Touring, Sport and DPM off. An additional Race Pack option is available which adds a fourth driving mode setting: Race. This setting provides the maximum possible traction out of corners. The Race Pack also features Launch Control and an optimised suspension setting.