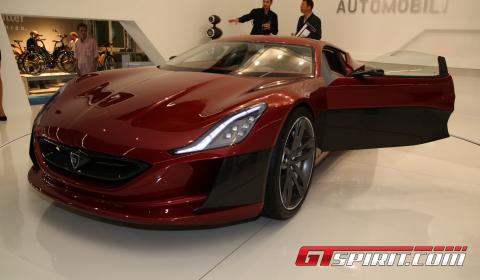 Following earlier teasers, the Croatian company Rimac Automobili has officially unveiled their electric One Concept at the Frankfurt Motor Show 2011. This car was created with the intention to build an exceptional supercar according to a new propulsion concept.
The Rimac One Concept is driven by four independent electric motor drive units which are divided into the rear and front drive system. Both systems, at the front and rear, are separated units. Each of them include two high speed, liquid cooled inverters, and two reduction gearboxes Joined into a single and compact unit.
Sophisticated ECUs control each of those systems using the input of many precise sensors placed all over the car. Rimac calls it All Wheel Torque Vectoring (AWTV). In plain English: each wheel is independent powered by an electric motor, inverter and reduction gearbox.
Thanks to this, the Rimac One Concept produces 1,088 horsepower and a massive 3,800Nm of torque. Since is weight is kept to 1,650kg, the car accelerates from standstill to 100 km/h in 2.8 seconds while its top speed is electronically limited to 305km/h.
Even more impressive it the claimed range of the supercar thanks to the battery capacity of 92kWh. The One Concept will cover 600km between charges.