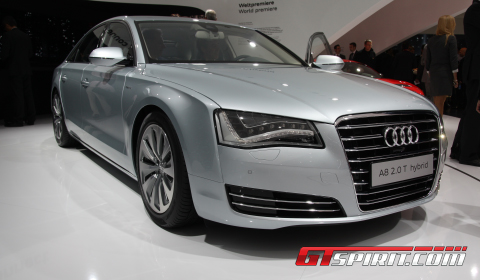 German car maker Audi has released their 2012 Audi A8 Hybrid production model at the 2011 IAA Frankfurt Motor Show. The luxury hybrid offers a power plant, which combines a conventional combustion engine with an electric motor.
A 2.0 TFSI engine works with the electric motor to develop a peak output of 245hp and a torque figure of 480Nm. The 2.0 TFSI alone generates an output of 211hp and 350Nm of torque; this is then supplemented by a disc-shaped electric motor which develops 54hp and 210Nm of torque.This means that the A8 hybrid reaches 100km/h in 7.7 seconds from a standing start and has a top speed of 235km/h. The 36.7 kilograms lithium-ion battery is located in a crash-proof area in the trunk.
The Audi A8 hybrid differs with respect to any normal on a few small details. Ten spokes, 18 inch alloy wheels are unique to the car and are reminiscent of turbine blades. 19 inch versions are also available. Arctic Silver is available as an exclusive paint finish. A metallic paint finish, three-zone automatic air conditioning, LED headlights and the BOSE sound system come standard.