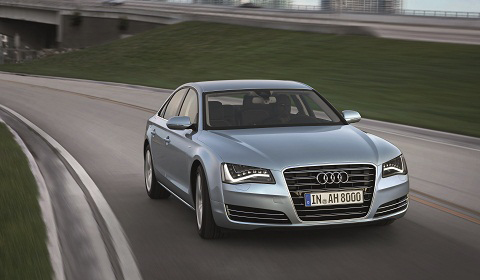 Audi has released details of the new A8 hybrid and announced that it will enter production in 2012. The powerplant is a combination of a conventional combustion engine with an electric motor.
A 2.0 TFSI engine works with the electric motor to develop a peak output of 245hp and a torque figure of 480Nm. The figure that most will look out for with this luxury limosine is the average fuel consumption which sits at a comfortable 36.75mpg. The A8 can travel at speeds of up to 100km/h on electric power alone, CO2 emissions are below 148 grams per km (238.18g/mile)
The 2.0 TFSI alone generates an output of 211hp and 350Nm of torque; this is then suplemented by a disc-shaped electric motor which develops 54hp and 210Nm of torque.This means that the A8 hybrid reaches 100km/h in 7.7 seconds from a standing start and has a top speed of 235km/h.
Three modes are available to the drive: The 'EV characteristic map' gives priority to the electric drive, while the 'D mode' focuses on efficient control of both the engine and the electric motor. The 'S mode' and the tiptronic gate are designed for a sporty driving style. The hybrid sedan has five operating states: with the TFSI engine alone, with electric drive only or in hybrid mode; recuperation and boosting are also possible.
The 36.7 kilograms lithium-ion battery is located in a crash-proof area in the trunk. Two different methods are used to air-cool the battery, air is blown from the passenger compartment by a fan or via a separate cooling circuit joined to the automatic air conditioning system. The battery is kept within the temperature window required for it to perform to its full potential over a wide range. The electric motor and the compact power electronics which serve as a controller between the electric motor and the battery are water-cooled.
The Audi A8 hybrid is distinguished by subtle details. Ten spokes, 18 inch alloy wheels are unique to the car and are reminiscent of turbine blades. 19 inch versions are also available. Arctic Silver is available as an exclusive paint finish. A metallic paint finish, three-zone automatic air conditioning, LED headlights and the BOSE sound system come standard.
It features an ASF (Audi Space Frame) body, made entirely of aluminum. It weighs just 231 kilograms and is roughly 40 percent lighter than a comparable steel construction.
Stay tuned for our first encounter with the Audi A8 Hybrid at the IAA 2011 in less than three weeks.