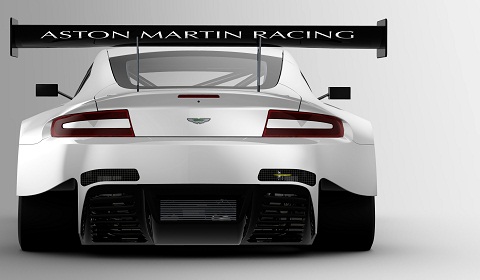 Aston Martin has confirmed the 2012 Vantage GT3 race car, a natural successor for the successful DBRS9 and it will offer customers the latest in racing technology.
Under the hood, the Vantage GT3 features a modified version of Aston Martin's 6.0 liter V12 engine. Equipped with a dry-sump, it is expected to produce 600hp and 700Nm of torque with further optimised weight balance. A carbon fiber propshaft has been used to join the engine to a Xtrac six-speed sequential transmission with semi-automatic paddle shift gear change.
The modular chassis uses aerospace bonding techniques to create a light and immensely stiff aluminium and composite structure. Aston Martin's target dry weight for the car is 1,250kg which will include a steel roll cage to conform to FIA safety standards and a high speed pneumatic jack system.
There are new aerodynamic components as well as a shorter wheel base and lower engine position. These parts include a new front splitter, an adjustable full width carbon fiber rear wing and aerodynamically optimised bumpers, fenders and sills. The latest race-developed ABS and Traction Control systems are fitted to the V12 Vantage GT3 as standard.
Customer cars will be eligible for numerous race series around the world including the FIA GT3 Championship, ADAC Masters, Nürburgring VLN, Blancpain Endurance Series, British GT, Belcar and Open GT among others.
Aston Martin sold 24 DBRS9s and it is hoped that the new Vantage GT3 racer will be just as successful. Testing of the new car will commence in October. Deliveries of the first cars will be in early 2012. Prices start from £ 298,000.