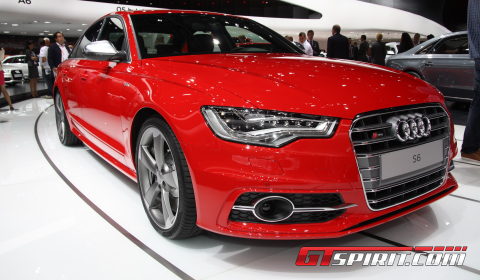 Ingolstadt-based car maker Audi has shown its new 2012 Audi S6 and S6 Avant to the press at the Frankfurt Motor Show 2011. The German everyday sports cars are outfitted with the new a four-liter, twin-turbo V8 engine, which brings Audi's downsizing strategy to the high-performance S-class.
The S6 and S6 Avant have the 420hp version of the new 4.0 TFSI, similar to the 2012 Audi S7 Sportback. The twin-turbo V8 is linked to a seven-speed S-tronic and provides a constant 550Nm of torque from 1,400 to 5,300rpm. It accelerates the S6 from 0 to 100km/h in 4.8 seconds and the S6 Avant in 4.9 seconds. With both models, the electronically governed top speed is 250km/h.
A number of technologies are added to cars, including the recuperation and start-stop systems as well as the new "cylinder on demand" cylinder management system. The quattro permanent all-wheel drive system uses a self-locking center differential and torque vectoring. If desired, Audi adds an optional sport differential, which actively distributes the power between the rear wheels.