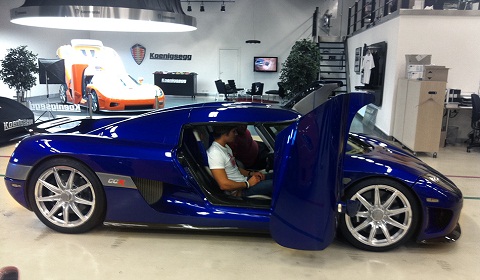 Being a Swede, nothing in the hypercar world was going to appeal to Jon Olsson more than the Swedish designed and built Koenigsegg. Followers of the free-skier may have noticed a recent blog post covering Jon's trip to the factory in southern Sweden where he got the chance to drive a CCX with the steering wheel on the 'right' side!
Jon reported that there were around 10-12 completed cars at the factory. About five Agera's, a few CCX's, a CCXR and a couple of CCR's. From his pictures we also get an idea of the production process with several completed carbon fiber shells on display as well as a red Agera R undergoing some work and a white completed car. The car Jon drove is particularly famous around UK car spotters as it is the car owned by supercar collector Peter Saywell, owner of an Agera R and a Zonda PS Edition.
So, do we think Jon should trade in the LP670-4 and the GT-R for one of these? Or should he stay put and wait for his Aventador set to be delivered in the New Year?