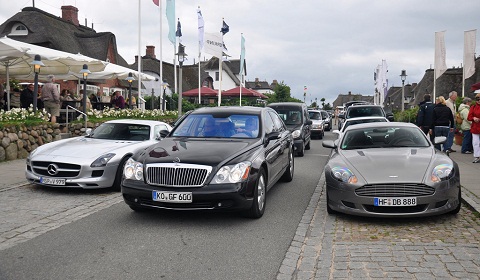 Talking at the Frankfurt Motor Show last week, Dr Ulrich Bez confirmed that talks with Daimler, Maybach's parent company will reach a conclusion over the coming weeks. The news comes after almost a year of rumours about the two luxury brands attempting to reach a cooperation agreement for certain models in both companies' immediate plans.
For Maybach, it seems that Aston Martin are offering their expertise to help build Maybach a new model and to help continue and build on the existing brand. Sources are suggesting that Aston Martin has already issued four Maybach concept drawings, based on the next-generation S-class architecture, to help executives come to a decision on the ailing historic brand. In return for Aston Martin's help in building a next-generation Maybach, it seems that Aston Martin is after the Mercedes GL Class architecture, possibly for an Aston Martin or Lagonda SUV.
As we have reported before, Maybach sits on the precipice as far as Daimler officials are concerned. The brand has not significantly challenged either Rolls Royce or Bentley. Sales hit 600 cars a year in 2003 and fell to just 200 last year compared to Rolls Royce's 2,700 and Bentley's 5,100. Much of the brands publicity comes from a pocket of fans in the Entertainment Industry who've become bored of the standard Rolls Royce Phantom or Bentley equivalent.
Whatever happens to Maybach, it seems that there are still a small number of customers who would choose a Maybach over any other luxury cars. The challenges faced by Aston Martin and Maybach, is therefore, still the same. To bring the brand into modern times and to make a commitment to its future by securing the necessary updates to maintain a healthy customer base.
[Photo: Flickr]