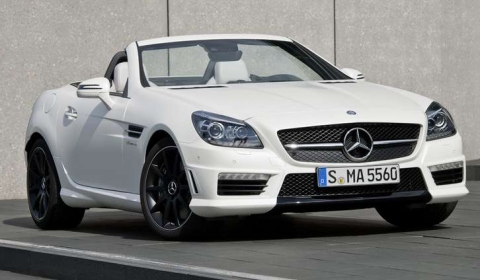 After starting the day with the first official pictures of the 2012 Ferrari 458 Italia Spider, these are first official pictures of the 2012 Mercedes-Benz SLK 55 AMG, which has been revealed ahead of its debut at the IAA 2011 in September.
The small and powerful roadster has the new 5.5 liter BiTurbo V8 engine providing 422hp at 6,800rpm and 540Nm of torque at 4,500rpm, which is around 70hp more than the previous generation. With this engine the 2012 SLK55 AMG has a 0.44kg/hp power to weight ratio.
The 2012 model will be thirty percent more efficient than its predecessor using Start/Stop technology and a system called AMG Cylinder Management system, which automatically shuts off four of the engine's eight cylinders under partial load. This considerably reduces the fuel consumption and CO2 emissions. The Germans also outfitted a generator management system, which uses the kinetic energy released during braking for recharging the battery.
The starting price in Germany is € 72,590. The SLK 55 AMG will be available for customers in January 2012.
Stay tuned for more in-depth information on the SLK 55 AMG at the Frankfurt Motor Show.
[Via Autobild.de]