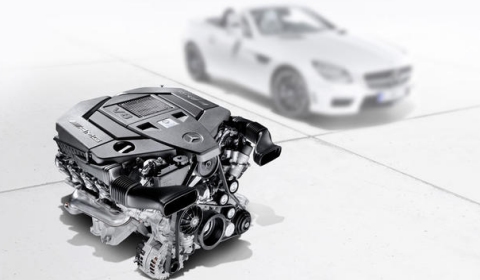 The Frankfurt Motor Show is getting closer and closer. The release of numerous sports cars is expected. One of those is the 2012 Mercedes SLK 55 AMG, not the SLK 63 AMG as reported before. It will go on sale on various markets soon after the release, but its price is not known at this moment.
The small and powerful roadster will be powered by the new 5.5 liter BiTurbo V8 engine. Unfortunately, it will not be as powerful as the engines in the CLS 63 and the E 63, giving space to numerous tuners upgrading the V8. As standard, the 2012 AMG SLK 55 will deliver 422hp at 6,800rpm and 540Nm of torque at 4,500rpm, which is around 70hp more than the previous generation. With this engine the 2012 SLK55 AMG has a 0.44 kg/hp power to weight ratio.
The 2012 SLK55 AMG has a new sports exhaust system with integrated exhaust flaps and two chromed twin tailpipes on each side.
The 2012 model will be 30 percent more efficient than its predecessor using Start/Stop technology and a system called AMG Cylinder Management system, which automatically shuts off four of the engine's eight cylinders under partial load. This considerably reduces the fuel consumption and CO2 emissions. The Germans also outfitted a generator management system, which uses the kinetic energy released during braking for recharging the battery.
Stay tuned for more from Mercedes-Benz at the IAA 2011.