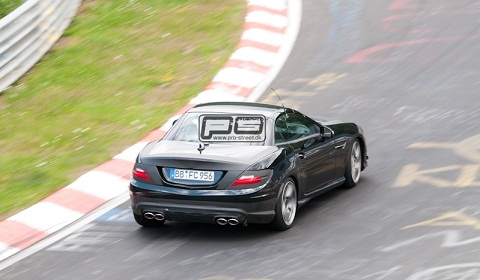 Spy photographers at ProStreet.dk caught the 2012 Mercedes-Benz SLK63 AMG out testing on the Nordschleife. There's no clear rumours on when we'll see the SLK63 AMG, but it's clearly at the advanced stages of testing.
The SLK63 AMG will obviously be built on the SLK platform so expect it to share the same basic design features. Above and beyond that, a new boot spoiler appears to have been added along with a quad-exhaust system and rear diffuser.
Expect the SLK63 AMG to use the 5.5 liter twin-turbo V8 currently announced for the S63 and CLS63 Mercedes AMG models. It could produce as much as 540bhp and 800Nm of torque, expect top speed to also be limited to 250km/h.