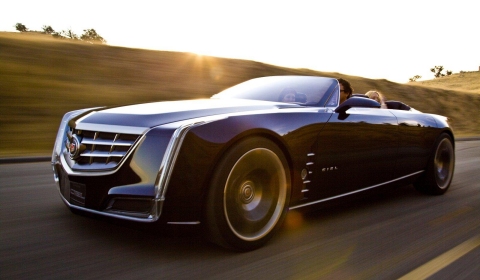 Cadillac unveiled the Ciel concept, an elegant, open-air grand-touring car inspired by the natural beauty of the California coast at the Pebble Beach Concours d'Elegance. The Ciel – pronounced "C-L," the French translation for sky – is a four-seat convertible that opens a new chapter in Cadillac's design and product ascent.
The massive Ciel is powered by a twin-turbocharged version of the 3.6 liter direct injection V6 engine, paired with a hybrid system using lithium-ion battery technology.
The doors are French-style, with the rear doors hinged at the rear – there is no B-pillar. Like the exterior, the passenger space is accented with sweeping nickel-plated trim. It divides the body-color upper sections from a complementing beige lower color. Italian Olive wood, machined aluminum and hand-tipped leather are also used in the interior. It rides on brushed nickel-plate, milled-billet aluminum wheels 22 inches in size.