German-based third party tuning company AC Schnitzer is the world largest BMW and MINI tuner as well as a worldwide leading supplier for special BMW and MINI parts. The company is owned by the Kohl family and enjoys links with Schnitzer Motorsport in Freilassing.
The Kohl Group company has over 600 employees and a yearly turnover of 140 million Euros. The massive complex in Aachen (Licence plate code AC) offers more than only AC Schnitzer. Inside the premises you will find a dealerships for BMW, MINI, Ranger Rover, Opel, Harley Davidson and BMW motorcycles; an enormous workshop, paint shop, washing street, dyno and photo studio. Tuning companies Steinmetz and Phoenix are also part of the Kohl Family.
A unique place to visit is the in-house gourmet restaurant "kohlibri" above the main office. The restaurant offers a place for gatherings and gives the customers the option to wait or work while their sports car rolls into the workshop.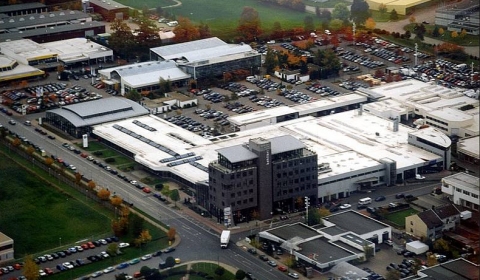 In Aachen, AC Schnitzer employs a team of 55 people, concentrating on the development and world-wide sales of AC Schnitzer tuning accessories and complete vehicles via importers in 58 countries. The dealership offers a showroom with an overview of tuning products available for BMW and MINI cars.
During our visit, the fastest Mini Cooper JCW, called the Eagle, was displayed in the main showroom. It is powered by the same engine as the John Cooper Works producing a whopping 260hp at 5,000rpm and 340Nm of torque at 2,950rpm. The Eagle is able to accelerate from 0 to 100km/h in just 5.8 seconds and it has a top speed of 250km/h.
A new ECU, modified turbo, intercooler, and a stainless steel exhaust system with racing catalyst provide the additional power. AC Schnitzer have also fitted a sport clutch, a limited slip differential, a lightweight ion battery, a racing suspension and anti-roll bars. The aerodynamics package includes a new bonnet, boot lid, rear diffuser, new wings, new doors, and a rear spoiler all made from carbon fiber reducing the weight of the car.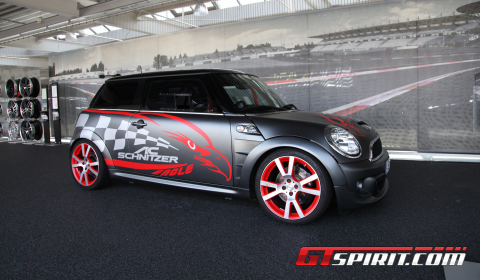 The basic principle for AC Schnitzer is to provide a transition from motorsport to the road in a daily driver package. Concepts and materials used on race cars are made available for daily use in street legal vehicles. The parts are aesthetical, technical, visible and invisible on any of their projects.
To accomplish this goal AC Schnitzer uses the know-how of Herbert Schnitzer and his team from Freilassing who have proved their leading position amongst BMW race teams and tuning houses with numerous race victories and title wins.
AC Schnitzer offers more than 2,500 different products in six product groups; interior, suspension, exhaust, engine, aerodynamics, and wheels ranging up to 23 inch. All products are developed in-house and produced via their own partners. An example are the performance upgrades. These offer moderate increases in performance of approximately 10 to 15 precent, but with an AC Schnitzer warranty equivalent to BMW manufacturer's warranty.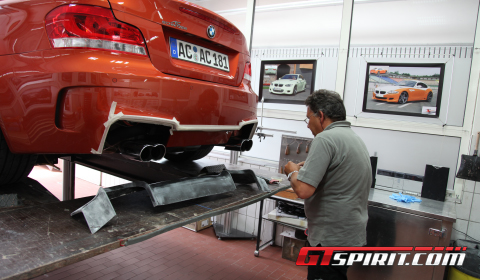 All AC Schnitzer design concepts are created by one Italian designer, who we met in his personal office close to the workshop. Head designer Michele Viandante discussed his complete work flow and gave us an in-depth look into his workshop and the development process. You can check out our complete story about the development of the BMW 1-Series M Coupe by AC Schnitzer right here.
After being established in 1987 the Germans celebrate the company's 25th anniversary in 2012. The significant accomplishment marks a quarter of a century in business and celebrates a longlasting future in the market. To commemorate the occasion AC Schnitzer plans something special, we suggested an unique vehicle designed by Michele and available on the market in a limited number. Unfortunately, nothing was confirmed nor stated, so time will tell what they have hidden up their sleeves.