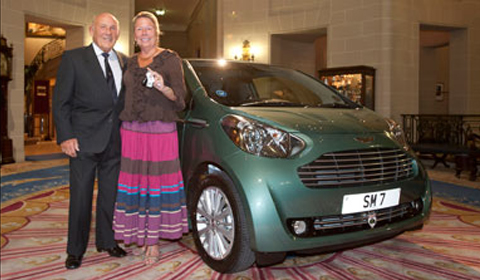 Last night at the prestigious Royal Automobile Club, international motorsport legend, Sir Stirling Moss was handed the keys to his new Aston Martin Cygnet, which was a surprise birthday present for his wife, Lady Moss.
They were greeted on their arrival at their planned private celebratory dinner on the eve of her birthday, at the Royal Automobile Club clubhouse, by the new Aston Martin Cygnet. This was the culmination of six months 'secret' planning and correspondence between Sir Stirling and Aston Martin. Sir Stirling said:
My greatest partner in everything that I do, Susie is an amazing person and frankly the best wife a man could have. Since seeing a pre-production Cygnet in January I knew that it was the perfect car for Susie; a proper little piece of British luxury and perfect for our life in town.
To add to the occasion the Cygnet was supplied by HWM Aston Martin, based in Walton-on-Thames, who were appointed as an official Aston Martin dealer in 1951 and is now the longest serving of the company's global network of 134 dealers. HWM Aston Martin was started 60 years ago by fellow Aston Martin Works Driver George Abecassis who gave Sir Stirling his first Grand Prix drives in 1951/52 in HWM-built cars.
The Moss' Cygnet is finished in Aston Martin Racing Green handcrafted in Obsidian Black leather with a contrasting coarse silver stitch.