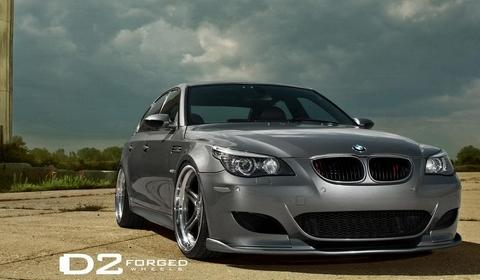 The eye-catching work we saw before from American wheel tuner D2Forged is probably circulating in many of our minds. Today we show you a new package created for the previous BMW E60 M5.
This particular BMW M5 wears Space Gray as main colour and is a perfect platform to display the D2Forged CV3-LP wheels. Both in front as in the back you'll find 21 inch wheels with respectively sizes of 21×9.5 – 22lbs and 21×10.5 – 24lbs.
The design and engineering process behind the D2Forged CV3-LP is decribed as:
The LitePack program was born out of our passionate pursuit of perfecting the deep concave wheel. Although the dramatic profile depth of deep concave wheels is gorgeous, the additional aluminum adds ALOT of weight to the wheel. To make matters worse, this extra weight is at the outer circumference of the wheel, so its rotational mass is multiplied even more! We went back to the drawing board and developed a forging profile which maintained the concave depth at the center of wheel, and then strategically went about removing all additional weight. To finalize the program, we utilized a step-lip contour, to further the weight savings.