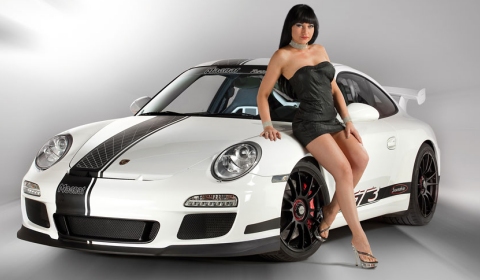 The lastest in tuning is this Porsche 911 GT3 named Snowmobile, so called because of its white car body painting. Audiospecialist Magnat has created the package together with German tuner Wimmer.
Thanks to the motor electronics adaptation, the modified exhaust system including sport catalysts and suction tubes optimization, the GT3 has been pepped up to a power performance of 462hp, max torque of 451Nm and Vmax of 317km/h. All parts are coming from Wimmer in Solingen, Germany, and the package is called RS Step 3.
The wheel-tire-combination Ultraleggera HLT CT by OZ in 8.5 and 12×19 inch with Yokohama Advan Sport in 235/35-19 and 305/30-1.
Magnat has re-engineered the whole internal space of the car. Leather, Alcantara and high gloss paintwork let the GT3 shine in its unique design, the dynamic diamond patterns setting sportive and, in the same time, exclusive accents, according to the Germans.
The 2,100 watts sound system has been adapted by Magnat especially for the GT3 interior. The original loud speaker brackets have been technically overhauled, offering sensibly better sound blasting qualities in comparison to the serial sound installation. There have been employed Magnat Selection series loud speakers, letting the inner space sound like a concert hall because of their anodized PP membranes, high performance voice coils and the one inch textile tweeters.
Especially for the GT3, Magnat has developed a down-fire subwoofer casing with 10 inch woofer. Normally, this woofer principle is being used only for high quality home cinema installations. The heart of the sound equipment is formed by the Magnat Black Core 5 channel amplifier providing its total power of 2,100 watts.