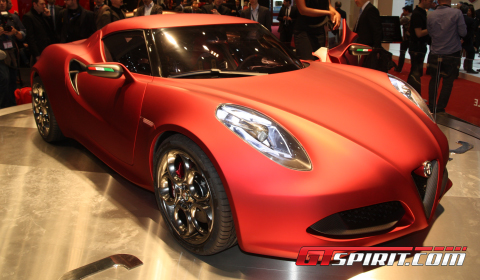 This month, Alfa Romeo celebrates 101 years of motoring, and the 2011 Goodwood Festival of Speed (1-3 July) will help mark this occasion by playing host to the UK public debut of the mid-engined Alfa 4C Concept.
The Alfa 4C Concept is a classic formula of a two-seater, mid-engined, rear-wheel drive coupé. Lightweight materials such as carbon-fiber and aluminium are used extensively throughout. These solutions, used in conjunction with a powerful 200bhp four cylinder petrol engine coupled with the new automatic Alfa TCT twin dry clutch transmission allow a top speed of 250km/h, kerb weight under 850kgs, 0-100km/h in under five seconds, and a power-to-weight ratio lower than 4kg per bhp.
While celebrating the future of Alfa Romeo at this year's Festival of Speed, the marque will also be embracing its rich past, by showcasing five cars from the Alfa Romeo museum collection in Italy. These automotive legends include Fangio's Alfa 6C 3000CM, which alongside the Alfetta 159, will celebrate the 60th anniversary of Fangio's historic 1951 Formula One World Championship title, as well as the Alfa 6C 1750GS, Alfa 750 Competizione and the Alfa 33 TT 12. Spectators at the Festival will be able to see the cars in action over the three day event, and they will be on display in the Cathedral Paddock area.
In the Supercar Paddock, you will find Alfa's 8C Spider. Alfa Romeo will also be exhibiting at the Goodwood Moving Motor Show.