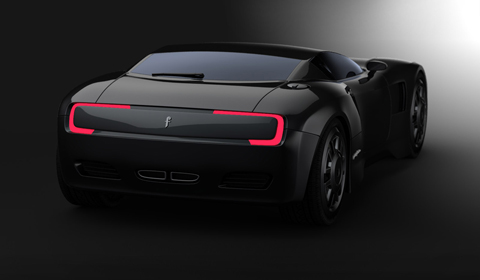 The Fiat line-up doesn't have a coupe at this moment. The last coupe made by the Italians was the Fiat Coupé which was designed by Chris Bangle and produced between 1993 and 2000. But now British designer Peter Norris showed his vision of a future sports car model for Fiat.
This design was made by Peter Norris, a 35 year-old designer from Rochester in Kent, UK. He studied transport design at Coventry University and then entered the entertainment industry where he specialized in virtual vehicles for videogames.
The project started as "a reboot of the Fiat Coupe", with the goal of creating a sportscar inspired by the lines of Ferrari's and by the Fiat Coupé, as Peter Norris explains:
I used to own a Fiat Coupe 16v Turbo, and whilst it frequently broke down and cost me a fortune in repair bills, I just didn't have the heart to get rid of it. I still turn my head every time one drives past me. The Pininfarina styling inside as much as outside just oozes with Italian flair and really was, and still is different to anything else on the road. Some people have referred to it as a 'baby Ferrari'. So I began sketching out ideas for a Fiat Coupe for 2012.
But halfway through the project Peter Norris changed his mind and switched to a luxury coupe, hence the Pininfarina badges on the car. As Norris once again explains:
After roughing out the body in 3d I changed my mind and decided that I wanted to build something that was more of a luxury rather than a budget sports car and wondered what a car designed by Pininfarina under its own badge might look like, and so it evolved from there.
The Pininfarina Coupé Concept is a front-engined, rear wheel drive luxury sports car that aims at capturing the essence of the Italian thoroughbred: "clean, unfussy, elegant and fast." The design is characterized by a sleek profile and an ultra-low roofline.
The influence of the Italian styling can be seen in the treatment of the car's shoulders which – in combination with the large wheels – contribute to the overall dynamic stance. But as a British designer it seems like he has also been inspired by Aston Martin, notice the overall shape of the car of the C-shaped LED tail-lights that reminiscent the One-77.
It has become clear Norris has made a great design. We wouldn't mind if Fiat or any other manufacturer would pick up this design. Would you?
[Via Carbodydesign]