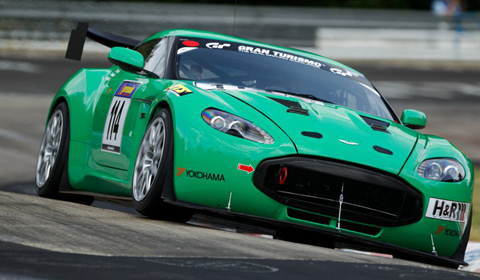 The Aston Martin V12 Zagato was first unveiled at the Concorso d'Eleganza Villa d'Este. This car celebrates the 50th anniversary of the Aston Martin and Zagato collaboration which resulted in the iconic DB4GT Zagato. The V12 Zagato concept won Concorso d'Eleganza Design Award for Concept Cars and Prototypes.
The race-spec Aston Martin V12 Zagato has made its first shakedown trial at the famous Nürburgring last Saturday, just one week on from its first public appearance.
The concept car completed five laps under race conditions during in the 53rd VLN race at the Nürburgring. This four-hour race is an endurance race series held at the German circuit each year and provides a great test for those who will enter the Nürburgring 24-hour race.
Following further development work in the UK, Aston Martin's pair of new V12 Zagato's will return to the Nürburgring on 11th June, to compete in the next VLN race as final preparation for the Nürburgring 24-hour race which will be held over 25th and 26th June.