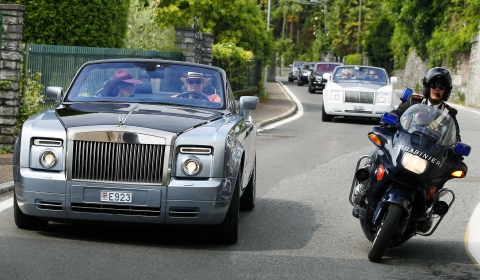 A dozen Rolls-Royce motor cars wafted through roads on Lake Como this week – thanks to some assistance from Italian motorcycle police. The Carabinieri were on hand to smooth a path for the procession, skillfully escorting the £ 4m line-up through winding streets and small villages.
Framed against the stunning canvas of Lake Como, the cars were driven by Rolls-Royce customers and VIP guests. The route started at Villa d'Este in Cernobbio, ending in Gravedona where guests were shuttled across the lake on three J-Craft Torpedo motor cruisers, for lunch in Bellagio.
A selection of Rolls-Royce Phantom, Phantom Drophead Coupé, Phantom Coupé and Ghost models took part in the procession. The experience came as a fitting end to Villa d'Este Concorso d'Eleganza celebrations, one of the world's most exclusive motoring events which was held over the weekend of 22 and 23 May.