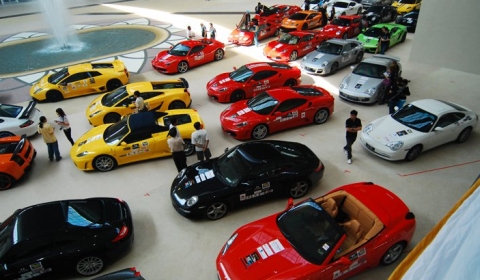 A supercar charity event was held in Malaysia the other day. The event lasted for three days. The participants took off from Kuala Lumpur and headed over to Johor Bahru.
What was the good cause? They raised up to RM 500,000, twice of what was expected – a little bit more than 115,000 Euros – for education of underprivileged youth in Johor.
The Sultan of Johor himself took part in this supercar charity challenge and brought his light blue / white Bugatti Veyron. There were approximately a hunderd cars on this event, like a LP670 SV, chrome LP640, Ford GT, white Jaguar XJ220, Ferrari 430 scuderia, Porsche GT3RS, LP560-4, Ferrari 360 CS, Mercedes SLR, and many many more.
[Via Supercarsinside]