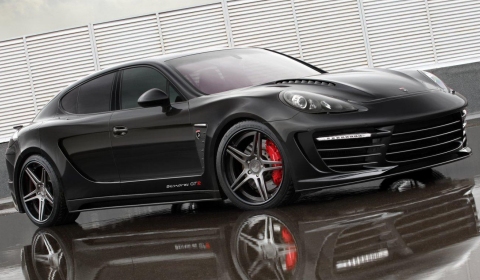 Russian company TopCar presents a new tuning program for the Porsche Panamera, which is called "Stingray GTR". They already produced an aerodynamic body kit named Porsche Panamera Stingray before. This body kit was made to enhance the shape of a standard car. Later, the Russians received a lot of clients' requests who would like to have more aggressive and "charismatic" car.
Therefore, they decided to create an entirely new body kit based on the Porsche Panamera. Most of the body elements have been re-created. It includes front and rear bumpers, bonnet, front and rear fender extenders, front and rear doors, side skirts.
Extended wings, advanced air vents, sharp outlines of blade front bumper and bonnet, strongly-marked rear diffuser and spoiler on the boot lid, all this is added as well. Rear doors and wings are visually combined. Now, to open the back door, you need to press a small button and the door opens automatically. All the new bodywork components are made from carbon fiber and Kevlar by TopCar itself.
Porsche Panamera Stingray GTR is a limited range, which includes only 25 cars. The exterior styling costs from 45,000 Euros.
An engine performance kit is available for all Turbo version cars. A new sport air filter, intake manifold, motronik and valved exhaust system increases the power to 600hp. An increase to 700hp is available if requested. It is also possible to install a sports brake system from Brembo.