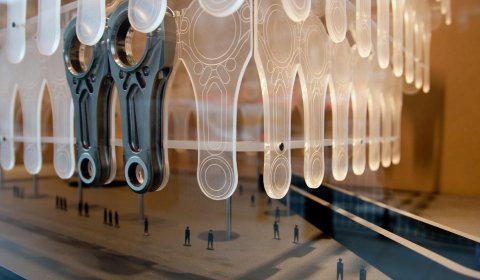 Art day on a Sunday. The London-based Ferrari Store is proud to support the Royal Institute of British Architect's vision for the "Cities of Tomorrow" with a display in all four windows of the flagship store on Regent Street.
The window designs were created by Duggan Morris Architects and show their vision for the cities of tomorrow. The displays utilise Ferrari memorabilias and certified components from past and present F1 and GT cars, which can be purchased from the Ferrari Store.
The Cities of Tomorrow at the Ferrari Store on Regent Street is currently on show until Sunday 29 May 2011.