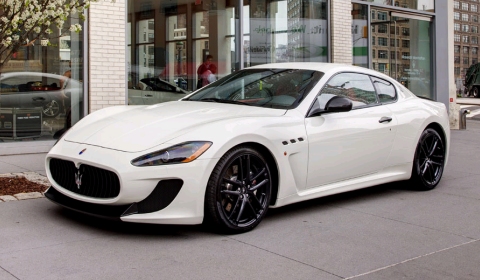 Maserati has introduced a taste of the race-bred GranTurismo MC Stradale's magic to North America with the GranTurismo MC at the New York Motor Show 2011.
The GranTurismo MC is the fastest production car Maserati has ever sold in the US market. With a top speed of 298km/h and a 0-100km/h time of just 4.9 seconds, the GranTurismo MC is only 3km/h slower than the ultra-aggressive MC Stradale, even though it is aimed at a slightly more luxurious market.
The major difference between the MC Stradale and the GranTurismo MC is in the transmission. Where the MC Stradale boasts the fastest gearshift in the world, the GranTurismo MC has a full automatic transmission in production.
Maserati has custom developed the GranTurismo MC to deliver US customers the increased power, improved handling and aerodynamic gains of the GranTurismo MC Stradale without challenging their tastes for automatic transmissions and four-seat practicality.
Powered by the 4.7 liter all-alloy V8 engine, this engine delivers 331kW at 7,000rpm and, with 510Nm at 4,750rpm, another 20Nm of torque compared to the GranTurismo S Automatic.