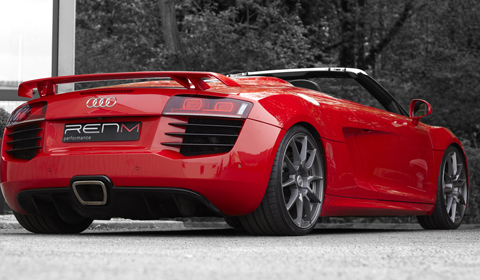 Back in October RENM Performance released a rendering of their take on the Audi R8 V10 Spyder. Now the Australian tuning company officially presented their creation, the RENM Audi R8 V10 RMS Spyder.
Thanks to the use of carbon and enhanced aerodynamics the RENM Audi R8 V10 RMS Spyder is a lighter and faster version of the regular R8 Spyder. Major changes were made to the front grille, brake cooling chambers, front splitter and side grilles.
The RENM R8 Spyder received a revised rear diffuser with a single, central exhaust outlet, similar to configurations used in Lamborghini models or the Bugatti Veyron. A new rear wing has been added to increase the down force.
RENM describes the car as 'a road car with motorsport intentions'. The 5.2 liter V10 engine received an upgrade as well. The power was increased from the original 525 horsepower and 530Nm of torque to 600hp and 585Nm.
Although RENM did not provide any performance figures they claim that the improved power-to-weight ratio has resulted in better acceleration, handling and braking dynamics.
Additionally, the Australians changed the interior by adding carbon elements to the steering wheel, center console, instrument gauge, shift gate, handbrake, arm rests and door trims. The standard seats were replaced with light-weight race seats upholstered in grey leather and red piping with R8 Spyder inscriptions.
For more information on the RENM Audi R8 V10 visit their website.