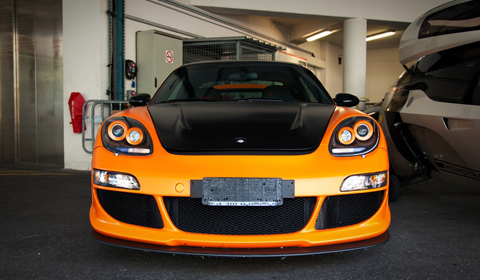 Gemballa was present at Top Marques with a few cars; the Panamera based Mistrale, the Cayenne based Tornado and the Mirage GT Matt Blue Edition.
The German tuner had also cars available in the test drive pit. One of these cars was the Panamera GTP 700, the other was the impressive Avalanche.
Based on the Porsche 997, the Gemballa Avalanche is available in different tuning packages. These include different modifications on the exterior and engine tuning ranging from 550 up to 800hp. The tuner from Leonberg, near Stuttgart brought two Avalanches to the show, one matt black and one orange-black colored.
This car, the Avalanche GTR-EVO R 750 has been tuned up to 750 horsepower which gives the car a top speed of approximately 334km/h. The aerodynamic package includes a new front bumper, new front skirt, front spoiler lip in carbon, GT headlights, rear skirt, a massive carbon rear spoiler and a new set of 20 inch racing wheels.
The interior has been tweaked as well by adding more leather and carbon. Also a sport steering wheel, a digital instrument panel and race seats has been installed.
Our cameramen had the opportunity to take a drive with this car. You can watch his video below.
More stories and videos will come, so stay tuned!