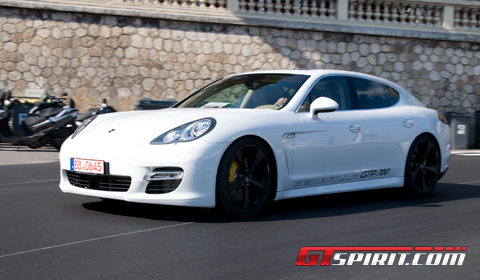 Gemballa has released their Mistrale body package at Top Marques Monaco 2011. Following the release of the Mistrale tuner from Leonberg showcased their tuning package for the luxury four saloon. A white Porsche Panamera Gemballa GTP 700 was available in the test drive pit.
The sports saloon has a twin-turbo V8 engine producing 700hp and 1000Nm of torque and the production is only limited to 30 units. The Germans are working on a combination between the performance package and the body kit. The vehicle shall be revealed in a few weeks time making it one of the most powerful and special Panamera's out there.
Official figures have not been released so far, we can only show the following pictures and a video made by YouTube member and Italian petrolhead NM2255.