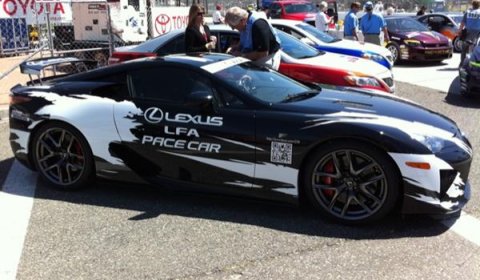 The list of high-powered pace cars has a new member, the 2012 Lexus LFA. Following the SLS AMG in the Formula One, the Camaro Convertible at the Indianapolis 500 and the BMW 1M Safety Car in the Moto GP, the Japanese sports car was the official pace car of the 2011 Toyota Grand Prix of Long Beach
This open-wheel racing event is held every year at the streets of Long Beach, California. The race is part of the Izod IndyCar Series calendar.
Dressed in a zebra type of exterior trim, the LFA Pace Car uses the same setup as the stock car. So it is powered by a 4.8 liter V10 engine that delivers a maximum output of 560 horsepower.
More pictures via this link!