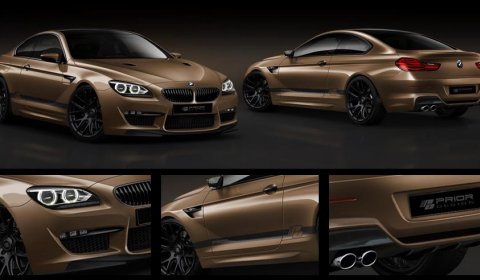 The design team at Prior Design has previewed their latest project based on the newly introduced 2012 BMW 6 Series Coupe released last week.
The body kit shows an M3-influenced front bumper fascia with LED driving lights and an integrated lower lip spoiler made of carbon fiber. The grille kidneys are blacked out while the hood received some additional air vents. The fenders have a new side grille design and the side skirts are given modest styling. The rear bumper fascia resembles the previous M6. The black areas around the exhaust tips seem to be carbon fiber.
Check out the larger picture for yourself, it tells the complete story. We have to wait for more, so stay tuned for the full release of this package.
[Via WorldCarFans]