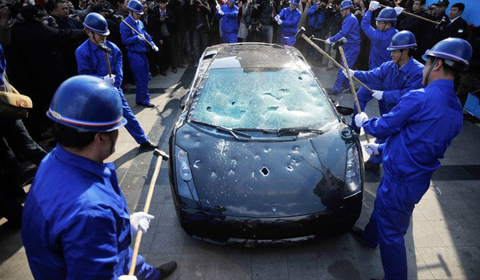 A Lamborghini Gallardo was destroyed by a group of men in the Chinese city of Qindao. The owner of the Italian sports car decided to smash it to show his disappointment with Lamborghini.
The Lamborghini Gallardo was bought six months ago, but the engine failed to start on November 29, 2010. The owner contacted the Lamborghini dealer in Qingdao and they transported the Gallardo to their maintenance center. The engine problem wasn't solved, but instead the bumper and chassis were damaged by the transport. The owner complained by the dealer but they refused to take responsibility in this matter, so the angry owner contacted Lamborghini CEO Stephan Winkelmann, the brand's China headquarters, its after-sales service manager for Asia-Pacific region, and the brand's owner Volkswagen Group, but the problem was not solved.
Angry about the service, the owner felt his consumer rights were ignored. So he decided that the best way to gain attention was to destroy his car on the 15th of March, which is also World Consumer Rights Day. Apparently, he hired people to publicly destroy his car with hammers and make his statement. This protest was made to provoke public support and goad the manufacturer to respect his consumer rights.
It is also interesting to notice that in China, due to protectionist measures, a Lamborghini Gallardo sells for between $ 529,000 and $ 757,000 depending on specification. This makes it a very expensive statement to honor consumer rights and to show off the disappointment about a bad customer experience.
What do you think about this action of the former Gallardo owner? Feel free to share your thoughts.
[Via China Car Times]