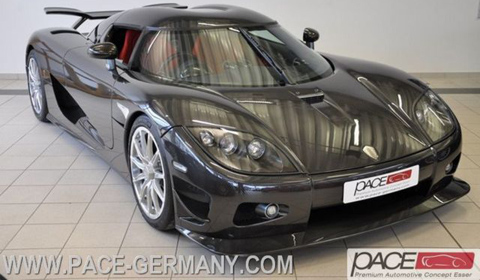 The Koenigsegg CCXR Edition is a special edition of the Koenigsegg CCXR and limited to only six models. One of these rare special editions and the only right-hand drive Edition is currently for sale.
Powered by the same 1.018 horsepower engine as the CCXR, the CCXR Edition received an upgraded body and interior. The CCXR is powered by a modified twin-supercharged 4.8 liter V8 engine which is converted to use E85 or E100 ethanol fuel as well as standard 98 octane petrol.
This engine provides at least 1,018bhp and 1,060Nm of torque, resulting in an estimated top speed of 400+ km/h (250+ mph). The CCXR Edition accelerates from 0 to 100km/h (62mph) in 2.9 seconds and from 0 to 200km/h (120mph) in 8.9 seconds. The braking distance while driving at a speed of 100km/h is just 32 meters. The designer of the CCXR, and founder of Koenigsegg, Christian von Koenigsegg is quoted as saying:
Our engineers couldn't quite believe the figures when we tested the car.
The CCXR Edition features a fully visible carbon fibre and Kevlar body, a large adjustable rear wing, larger front splitter and side strakes for increased downforce and a unique forged wheel design. In total the CCXR Edition produces over 350kg of downforce at 250km/h. The interior is also reworked and features a special interior trim and color.
This impressive car comes with five years factory warranty and has driven only 295km. The price tag is € 1,844,500 (including 19% VAT) of € 1,550,000 (excluding VAT).
This car is listed at Mobile.de and for sale at Premium Automotive Concept Esser (PACE) in Wuppertal, Germany. For more information and pictures visit the homepage of PACE.